In Blog, Photography By by Ken Aschliman On October 31, 2013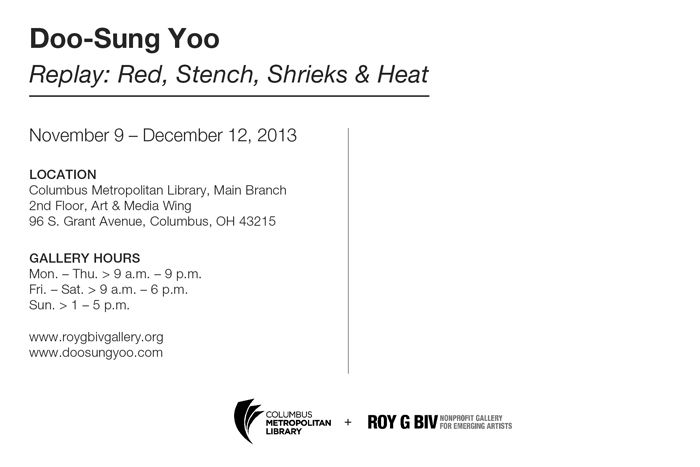 Doo-Sung Yoo's Replay: Red, Stench, Shrieks & Heat is the last ROY solo show held in the second floor Art & Media Wing Gallery at the Columbus Metropolitan Library's Main Branch (96 S. Grant Ave.) The exhibition is open for viewing from November 9 – December 12, 2013.
Doo Sung Yoo is a Korean new media artist who works in the United States. He explores hybrid art, synthesizing scientific research within artwork, interweaving interdisciplinary media between different professional fields, and finding and discovering the aesthetic possibilities for new art forms. His current focuses are on surpassing the human body form with technological augmentations, which are illustrated in his ongoing project series, the Organ-Machine Hybrids, in which disembodied animal organs are combined with electronic devices within mechanical bodies and the human body.
His experimental ideal hybrids have been shown in many exhibitions and art festivals, such as the International Digital Arts Festival, Prospectives.09 at Reno, Nevada, and Ingenuity Festival 2012 at Cleveland, Ohio. He presented his works in the conference of International Symposium on Electronic Art (ISEA) 2012 at Albuquerque, New Mexico, and New Media Caucus Showcase 2013 at New York City. One of his organ-machine hybrids was featured on the cover of a new media art journal, Media-N 2013 summer edition. The other hybrids also were reviewed and interviewed on We Make Money Not Art, the Wired Magazine blog, and Rhizome.